This year, immediately following Christmas day, I joined my girlfriend Emily and our friends Glyn and Amy to escape the wettest UK December on record for some winter sun and rock climbing in Sicily.
Although there is climbing all over Sicily, we decided to focus on the San Vito Lo Capo area as it was clear there was plenty to do there for one trip and we didn't want to lose lots of time driving around.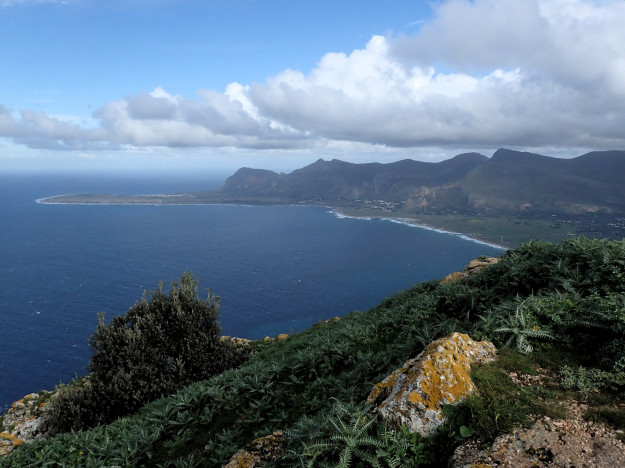 The train journey
We decided (as we often do) to travel via train. There were various possible ways to break the journey down but they basically all involve travelling from Paris to either Turin or Milan, and then from Turin or Milan to either Rome or Naples. From there it's another train ride to Palermo in Sicily where we hired a car for the final two hour drive to San Vito Lo Capo.
Below is our itinerary. I've shown prices too, since I always get questions about this, however note that you need to book in advance (3 months generally or 6 months for the Eurostar) to have a shot at getting these prices. I recommend Loco2.com for tickets, but I do work there so I'm obviously biased. (But I do genuinely think it's the best site and we have fantastic customer service.)
Train
Depart
Arrive
Cheapest ticket (approx)
London St Pancras International to Paris Nord
Eurostar
9.24 – Day 1
12.47
£29
Paris Nord to Paris Lyon
RER line D
Paris Lyon to Milan Porta Garibaldi
TGV
14.41
21.50
£22
Milan Porta Garibaldi to Napoli Centrale
Trenitalia InterCity Notte (4 berth sleeper cabin)
23.17
9.28 – Day 2
£30
Left bags in station left luggage and spent the day exploring Naples
Napoli Centrale to Palermo Centrale
Trenitalia InterCity Notte (4 berth sleeper cabin)
23.53
9.48 – Day 3
£30
Palermo Centrale to Napoli Centrale
Trenitalia InterCity
10.05 – Day 1
19.12
£15
Napoli Centrale to Milano Porta Garibaldi
Trenitalia InterCity Notte (4 berth sleeper cabin)
21.32
7.11 – Day 2
£30
Milano Porta Garibaldi to Paris Lyon
TGV
8.45
16.12
£22
Paris Lyon to Paris Nord
RER line D
Paris Nord to London St Pancras International
Eurostar
18.13
19.39
£29
Total cost (assuming cheapest tickets): £210 return
On the outbound journey, it would have been possible to arrive in Palermo at 23.00 on Day 2. But this would have been a bit late to be sorting out a hire car, and we'd have spent the day sitting on a train rather than exploring Naples.
There is actually a night train service (although I use that term loosely as it takes about 20 hours) which goes all the way from Milan to Palermo which avoids the change in Rome or Naples. However it departs too late to connect with the Paris to Milan TGV on the outbound, and arrives too late to connect with the Milan to Paris TGV in the inbound. You could get a later TGV but then you'd miss the last Eurostar to get back to London the same day.
Another option to throw in the mix would be using the Paris to Milan Thello sleeper service rather than the TGV day train; although I've heard pretty bad things about that service and have never taken it myself.
We opted for the slightly shorter return journey without the day in Naples, and part of the rationale was that we could experience the incredibly exciting crossing from Sicily to the mainland in the full light of day. There's no bridge or tunnel, so the train is literally loaded onto a ferry and shipped across the water!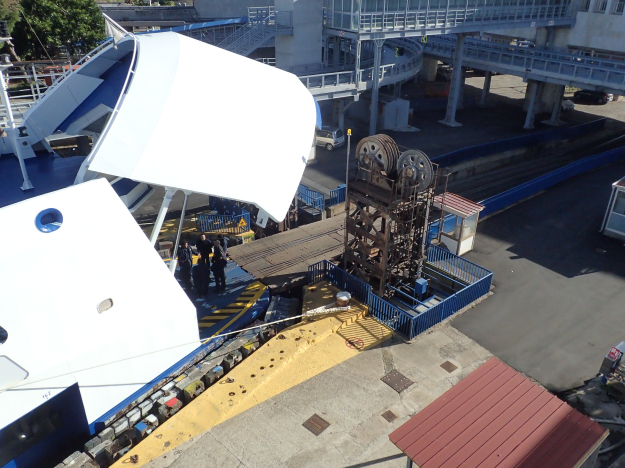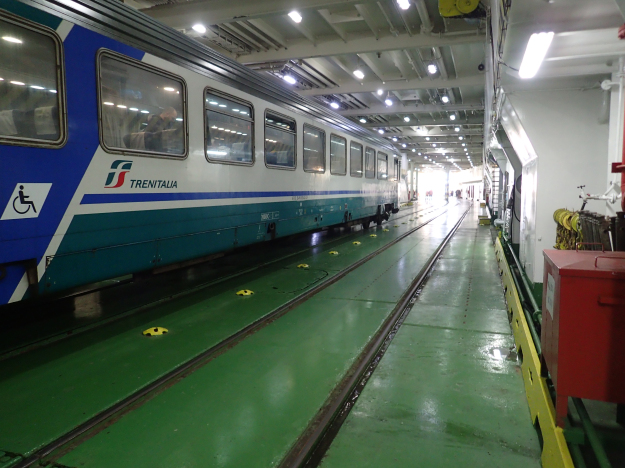 The climbing
The climbing is not spread over a huge area but a car is definitely needed to get around. The routes are generally not mega-long endurance epics; we had a 70m and an 80m rope but the 70 was mostly sufficient. The grades are often soft, sometimes unbelievably so.
In town there is the climbing house which is a great place to hang out and get advice from the friendly staff. They sell excellent beer from some Sicilian micro-breweries, although it's fairly pricey (but worth it).
You need to keep an eye on the bolts. In the past there have been issues with non-stainless bolts being placed which rust fast in a marine environment (which this is, even if the crag is not right next to the beach). It seems like the locals are aware of the issues and the situation is improving with stuff getting rebolted, but there were some routes we simply avoided because they looked too suspect. You can contribute to the bolt fund at the climbing house.
In our time we got around to most of the main crags…
Salinella is a long but not especially high cliff face which wraps the western side of the peninsula which San Vito Lo Capo sits on. You could easily walk/bike there from town. It is fairly bitty and broken rather than a single clean face, but there are some sections of high quality rock. On the north end I most enjoyed the Cala Mancina sector. Highlight routes were Chr.is.to 7c+ and Mal Di Schiena 7c. On the south end my highlights were The Wish Comes True 7c+, Pipeline 7c and Red Pillar 6c (climbed in the dark at the end of the dark, long and exciting).
Never Sleeping Wall is one of the longer crags with some interesting tufa formations. Tears of Freedom 7a+ and Long Sleep 6b+ were both excellent.
Crown of Aragon is excellent for climbing in the 7s. It's not especially high but has some great looking steep lines – the guidebook photos don't show the full crag very clearly but I was suitably impressed when I first saw it with my own eyes. Highlights were Walk the Line 7b+ and All Cats are Black at Night 7b (climbed at night, which felt appropriate!)
Lost World was worth seeking out; the guidebook photos showing massive tufas hanging in a roof caught our attention, but we were worried by reports of rusty bolts. Fortunately we found out that it has been rebolted 5 months ago and the bolts are now decent. The approach is more complicated than most of the other crags in the area; we needed to drive up a rough track and then descend a via ferrata. It probably took an hour in total to get in, but is well worth the effort. Highlights were Me Gustas Tu 8a and Stabilo Dave 8a although the grades are extremely soft. This crag clearly doesn't receive as much traffic as other areas; some bits of tufa could well break off and so it felt a little more adventurous here. A helmet wouldn't go amiss although it's generally steep enough that the belayer isn't in the line of fire.
Parco Cerriolo was my least favourite sector, although this is partly due to the fact that it was a very cold day, the tufas were dripping and I got stung on the head by a bee which then caused me to get a reaction and a fever in the night and take the following day off. But objectively I just don't think it's that good; a lot of the harder climbs start with a super steep roof and then turn the lip onto a much easier face. The best route we did was Feistus Reglettas 7b+. Watch out for bees' nests!
Rocca Firriatio is another more adventurous / less trafficked crag which gets no sun so is best on a warm day. The grades felt harder (i.e. more in line with other places). It's quite a bush-whack to get in although this will improve if it gets more traffic. There is quite a bit of loose rock; take a helmet – the girls had a near miss when Emily pulled a large block off Let There Be Rock 6b+. Il Pandoro 7a+ is fantastic, climbing up to straddle a huge stalactite and then crossing through a ridiculously steep roof but somehow the holds just keep coming. Roof Rabbit 8a was also excellent and ridiculously steep. I failed to redpoint it in the day but Glyn managed. If it was in Ceuse it would be a classic.
On our last day the four of us all went up a multi-pitch, Parole al Vento 6b+/c on a rock pillar on the side of Monte Monaco. We chose this route because it's one of a few which are fully bolted, and we had no trad gear. However "fully bolted" doesn't mean it's a conventional sport route; there are run-outs of up at 5 metres at times which can feel exciting. The climbing was excellent although I unfortunately didn't have the best time on the crux pitch (P3) because it was very wet and greasy, causing me to fall off. The rest of it was dry and enjoyable though. The final pitch in particular was great.
Climbing as a team of 4 we had both our ropes for the abseil, which was pretty handy. You can probably get down on a single 80m rope but having two ropes saved us the faff of having to back-clip through some roofy bits which we could just descend past.
Special thanks to Glyn for taking so many great photos on this trip – I was unfortunately extremely lazy with my camera so most of the photos are down to him!