This year my girlfriend, Emily, decided that she wanted to go home to Melbourne to spend a sunny xmas and new year with her family and friends over there. So when my friend Brett announced that he was heading to the Spanish bouldering destination Albarracín I didn't take much persuading.
This was right up my street because I had decided that after returning from Turkey I would dedicate myself to bouldering for the winter. Doing my first 8a sport climb was one of my goals for 2014 – I got close but I didn't quite achieve it. On the 8a's I've tried I think often I'm doing moves which are too close to my limit – that's what makes them hard. It's possible, but I need to battle through lots of moves which are close to my limit. Or get stronger, which is why I've decided to boulder all winter.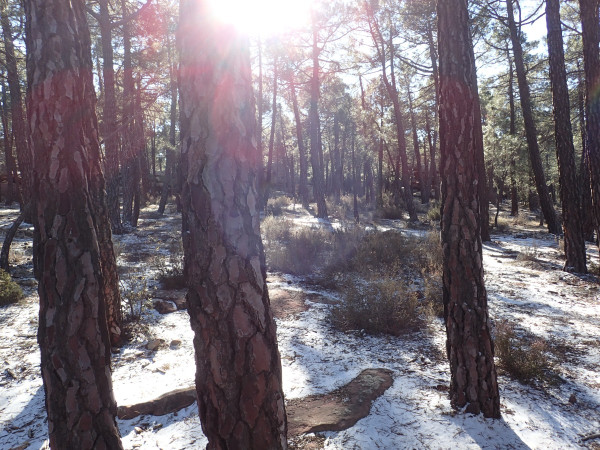 I've never properly sunk my teeth into bouldering before. I use it for training at the climbing wall, but when I climb outside I usually prefer routes. So by explicitly deciding not to do routes for a while I was excited to see what would happen if I fully committed to bouldering, inside and outside.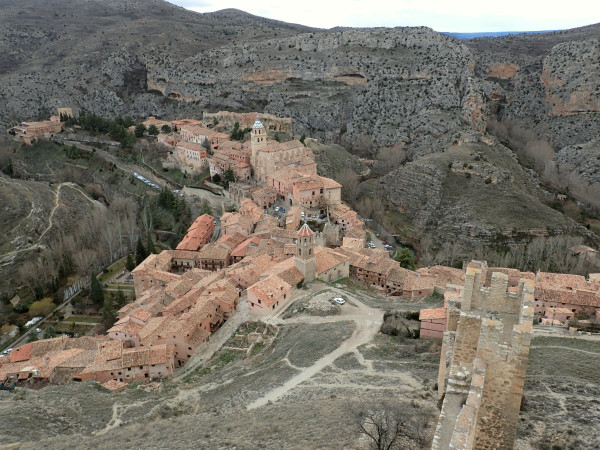 Albarracín is a pretty, old town located in a valley in the province of Teruel (somewhere in the middle of Madrid, Barcelona and Valencia).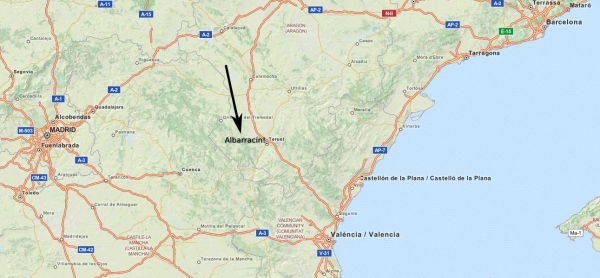 The central part of the town is actually very attractive and has a lot of history and culture. For this reason the town is popular with normal tourists and not just climbers. It's quite common as a climber to find yourself in little-known places where the only outsiders who visit are other climbers. It's not the case in Albarracín, where there are many tourists who probably have a lot more money to spend than the climbers. This perhaps underlies some of the access issues which have come up in the past and have flared up again recently. That said, we didn't actually have any problems in reality.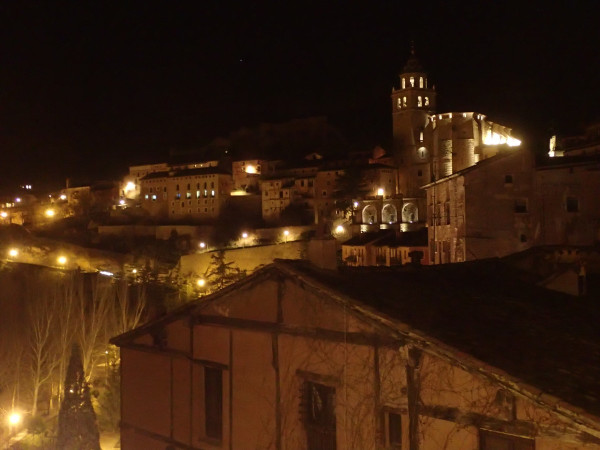 The climbing itself is found in the pine forest about 4 KM from the town. Unfortunately it's a bit far to walk to and from every day (particularly with bouldering pads) and there's no accommodation next to the climbing, so you kind of need a car. But it would probably be easy to hitch to and fro so long as you're not trying to do it with 3 pads in tow.
Unlike Font, all of the climbing sectors at Albarracín are located within walking distance of each other. This is really nice and means that it's possible to hit multiple sectors in a day if the fancy takes you.
The sectors we spent most of our time at were Techos (which means "roofs" – a not-so-subtle hint about the predominant style of climbing here), La Fuente and Arrastradero. We also dabbled in the Parking and Tierra Media sectors, but there are several more to go at. I have to return!
Having not done a lot of outdoor bouldering before I didn't really have expectations about what I'd be able to achieve during the trip. So I was pleasantly surprised that I managed to tick a 7B roof climb called Eclipse, in Techos.
Unfortunately I managed to get a finger injury in the process, so the victory was somewhat bittersweet. Having practised the moves the previous day I came along fresh with the intention of having a good angry go on it. I warmed up on some easier climbs and then waited my turn since the problem already had pads underneath and other people were trying. As I watched I reminded myself of the beta and got quite psyched. I pulled on and just went for it, fully expecting to fall at the first hard move.
But I didn't fall. What did happen, however was that I felt a sudden explosion of tinglyness in my right ring finger. Facing a split-second decision about whether to drop off or continue I thankfully decided, against my better judgement, to carry on. After a bit of a battle I managed to top out. I tentatively prodded my finger knowing that it was injured but still desperately hoping it was just some odd feeling that would subside any moment. But no, I was injured and I didn't do any more hard climbing for the rest of the trip. This was actually not a disaster since we had New Year coming up, and I was due to leave soon after that anyway.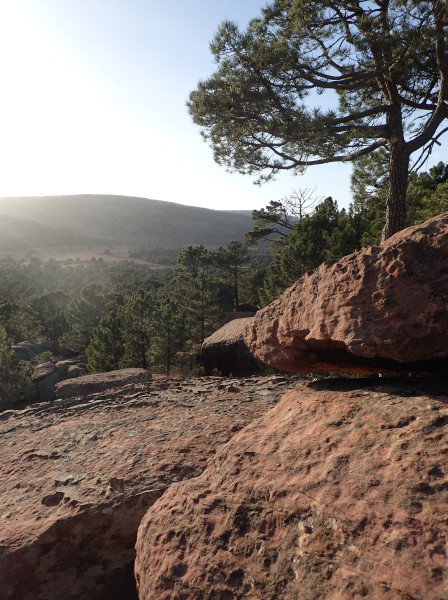 I believe that my mistake was that I didn't warm up enough. Doing some easy routes was not enough warm up to start pulling hard on a route like this. I should have tried the individual moves in isolation first in order to warm up my fingers but I got too psyched and just went for it. A lesson for the future! Fortunately my finger seems to be healing quite quickly so I think it's just a strained tendon rather than something more serious like a rupture.
Another highlight route for me was A Ciegas, also at Techos. Brett had researched this one before the trip and we actually had a play on it on our very first day. We realised it was pretty hard, but came back another day where I didn't seem to make much progress at all. Finally we came back on a third day and thanks to some beta which Brett had spotted in a video I was finally able to unlock the crux.
Two things made this climb stand out for me. One was the line: it goes straight up a steep overhanging arete which is just begging to be climbed when you see it. Secondly, the technicality. It was not just a case of jumping on and pulling hard; the beta was very specific in the end and heel hooks were crucial for me. A Ciegas staunchly resisted giving away its secrets but eventually I unlocked a sequence which worked and the battle I'd had made that all the more satisfying.
A Ciegas has a complementary route named A Oscuras, which traverses in from the left before going into the shared crux. After unlocking A Ciegas I was also able to do A Oscuras. I think it's a little bit easier but getting two 7A+ ticks in a session felt pretty satisfying regardless!
Aside from the climbing, what made this whole trip special for me was the number of amazing people who we met. Bouldering seems more social in that respect. It felt like every couple of days we made some new awesome friends and I left Albarracín feeling warm and fuzzy, smiling from ear to ear. This was especially good for the New Year: having injured my finger I was determined to party hard and I'm happy to say I achieved my goal! Needless to say we didn't do any climbing on the 1st of January…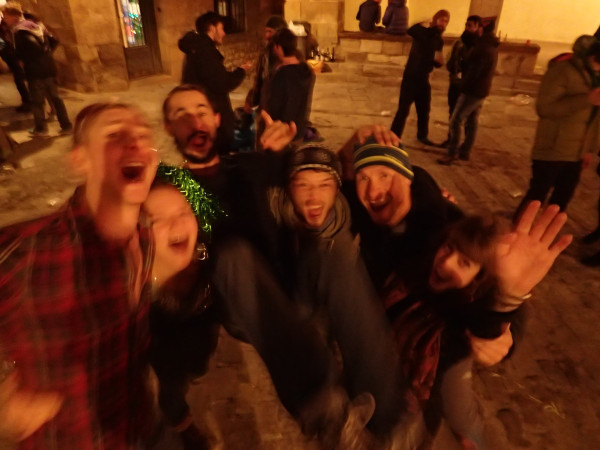 Unfortunately the end of my trip was slightly marred by a train travel screw-up which involved me getting stranded overnight in Barcelona and then having to buy an expensive flight back to London the next day. For a few days this rather overshadowed the good feelings I had as I left, but now the grumpiness has worn off my lasting memory is still overwhelmingly positive. I really enjoyed going on a bouldering trip and I fully intend to do more in the future!