I've just returned from a week in Cogne in the Italian Alps, on my first proper ice climbing trip. I've been trying to gain the skills needed to get into winter climbing for a few years now (doing some winter walking in Wales in 2013 and an ice climbing course near Madrid in January 2014), so it was great to finally bring it all together this season.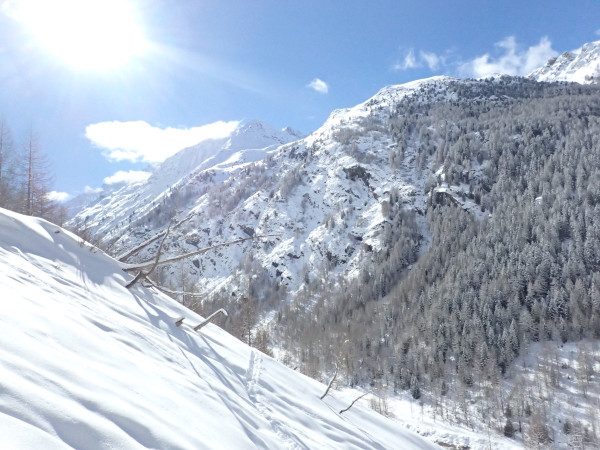 Before the trip I had the chance to practise a bit in North Wales. I spent a weekend in January doing some dry tooling in the slate quarries, which was a good way to get a feel for climbing with axes. A couple of weeks later the winter conditions in Wales got pretty decent and I spent another weekend doing some actual winter climbing around Clogwyn Du.
My companions for the trip were some chaps from The Castle: Jake, Toby and Kuba. Jake and Toby had done plenty of ice climbing before, whereas Kuba and I were a bit newer to it all. During the week we all swapped around with partners which kept things interesting, and enabled Kuba and I to learn quickly from the other two.
I feel very lucky to have had the opportunity to climb with more experienced friends on my first trip. This gave me the confidence to fairly quickly move on to harder routes and lead some WI5 pitches by the end of the week.
On the first day we all got warmed up on E Tutto Relativo. I climbed with Toby and he lead the crux pitch, which was a relief since it was running with water which made my fingers completely numb…
On the second day Kuba and I took on the classic Lillaz Gulley while Jake and Toby went for Lau Bij. This was good fun once we finally got on it; compounded navigational errors initially lead to us spending ages wading through deep powder. The less said about that the better!
The third day was pretty productive. Jake and I ticked off both Tuborg and Il Candelabro del Coyote. I was keen to lead something a bit harder so took the crux pitch of Tuborg by the vertical left hand ice pillar. It was a bit thin at the bottom and I felt quite nervous stepping on, but I eventually topped out after subjecting Jake to a rather long belay session!
On this third day I'd borrowed a test pair of Black Diamond crampons in a mono-point configuration. Before this I'd been climbing in my Grivel walking crampons which can only be used with dual points and are not really designed for climbing. The difference was huge; I was able to trust my feet way more. I couldn't face going back to the Grivel ones so on our rest day I got myself a shiny pair of Petzl Lynx's from the local climbing shop, a decision I did not regret!
Following the rest day Jake and Toby wanted to get on their big route, the mega-classic Repentence! We all grimaced when the alarm sounded at 5.30 but it paid off. Kuba and I ticked off Patri de Droite (amazing long crux pitch) followed by Patri de Gauche, while Jake and Toby got Repentence done. Toby took a huge whipper onto a screw which sounded pretty exciting but the screw held and he didn't get hurt fortunately.
The next day Toby and I got on Stella Artice. I lead the WI5 crux pitch which meant that I'd achieved my goal for the week. Happy days!
The final day was pretty special. We'd been looking up at this amazing ice pillar the whole week, which hosts a route called Hard Ice In The Rock Direct. Apparently it doesn't form up all that often, and the crux pitch gets the hair-raising grade of WI6. I'd been trying to persuade Jake that we should do it, although admittedly he didn't take much persuading. I lead the first pitch, 60 metres at about WI4+, then Jake lead the crux which I found pretty pumpy even on second! Solid effort. We swung leads on a couple of easy pitches, then I lead the final pitch which at about WI5. It wasn't hooked out at all so it was really nice to get to climb on some pristine ice.
We stayed in a self-catered apartment at Les Nigritelles in Lillaz, which was clean, modern, and had everything we needed. Its location meant that we didn't need to do any driving when climbing in Valeille Rive which I'm sure helped us to get on routes before other parties. And check out the view!