This being my first post, let's get the awkwardness out of the way: I have decided to start a blog to document my climbing related endeavours. Mainly because I want somewhere to put my photos and an incentive to take the photos in the first place. So, to business!
As you may well have noticed, it has been unusually cold recently and there was a huge dump of snow about a week before Easter. Over this winter, I have been trying to build up some skills and experience with winter walking. I'm a fairly competent summer climber, and have wanted to get into winter climbing for a while. But to do that there are quite a lot of new skills to learn, first and foremost being an ability to move and navigate safely in the mountains in winter conditions.
Back in November I did a winter skills course at Plas y Brenin with Vivien. Despite there being sod all in the way of winter conditions at the time, it was pretty helpful in increasing my confidence with navigation to the point where I felt ready to go out without a guide. Over December I found myself in Australia, enjoying quite literally the polar opposite of winter conditions, but when I got back in January there was quite a bit of snow to be had.
So off we went, tackling Snowdon by the easiest route: the Llanberis Path. This turned out to be a sufficient challenge as we were confronted with complete white-out conditions and strong winds. We concentrated quite hard on navigation and made a point of avoiding large drops!
Here's the platform of the summit station of the Snowdown Mountain Railway: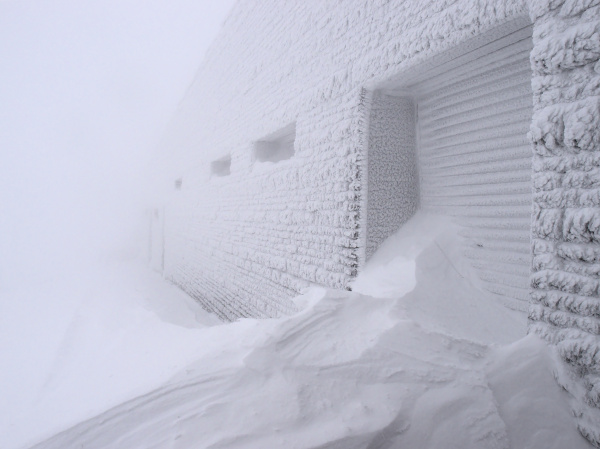 The following day, we walked up Y Garn from Nant Peris, and then descended into the Ogwen Valley. There was an absolutely fierce wind at the top and we got a bit disorientated, but fortunately managed to find the summit as it made navigating our way back down from a known point much easier.
When March came around, I presumed that I wouldn't have another opportunity to get into the mountains in winter conditions, but I was quite wrong. When the snow fell, the conditions were by the sounds of it as unpleasant as back in January. However as the Easter weekend approached the forecasts were predicting that the temperature would stay low, but the skies would clear up significantly. Awesome!
I got in touch with my friend Glyn (check out his blog), who offered that we could stay at his new house near Llanberis. He had quite a few other friends staying too, so it was quite a fun social gathering with plenty of psyche to go around.
On the Friday, Vivien and I headed up the Pyg track to Snowdon's summit. The place looked amazing.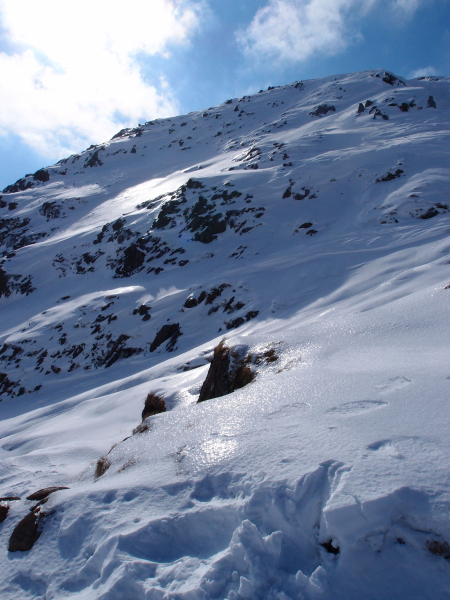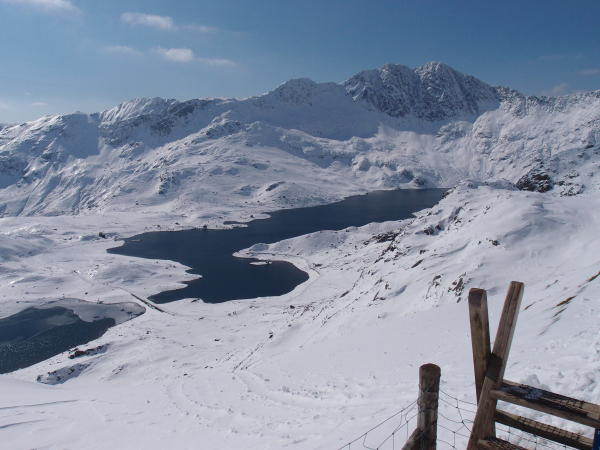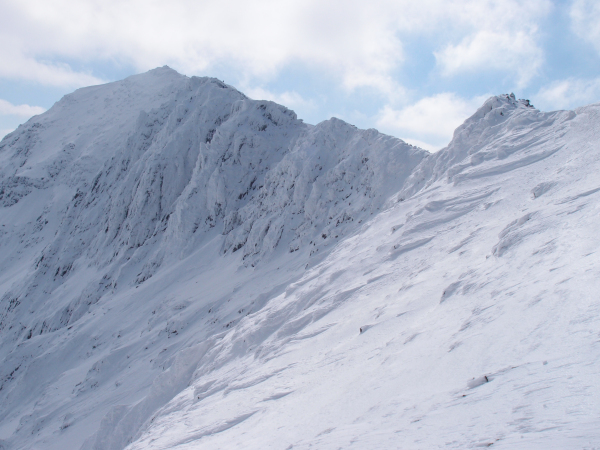 After getting up Snowdon, we wanted to go along the ridge to Y Lliwedd (the peak visible behind us in the photos above). This involved traversing quite a steep snow slope south of the summit. In theory there is a path but of course it was buried deep under snow.
As we started to make our way across we felt quite uneasy about the avalanche risk. The snow was deep powder covered with icy windslab. Each time we made a step, bits of ice would break away underfoot and slide down the slope, which didn't exactly inspire confidence. We got about halfway across and started pondering what to do. There was another guy who was also going across, but he seemed less concerned and carried on. After some deliberation we decided to err on the side of caution – we went straight up the slope and topped out onto the ridge again.
So instead we went along the top of Clogwyn Du'r Arddu, which I thought was fantastic. There was already a well trodden path and it didn't feel dodgy at all, but there's just nothing like the feeling of walking along a ridge high up in the mountains.
I was quite keen to go up Yr Aran, so we headed for it. This went less well as we encountered quite a bit of ice. We decided to call it a day and not to go right to the summit, but had more trouble with ice while trying to descend onto the Watkin path. It was a bit stressful but we managed to get down via a combination of careful front-pointing and a short abseil. We were pretty tired by this point!
Back at the house, the others were planning to do a group ascent of Snowdon's Trinity Face. There were three teams of two, and it was suggested that Vivien and I could join as a fourth pair. We haven't done any proper winter climbs before, but the others thought that given our summer climbing experience we'd be okay if we took an easy line.
I was quite excited to do this, but also nervous that we might be getting out of our depth. Trinity Face is huge and from the ground it certainly looks like it would be intimidating to be on. I'm sure it feels a lot less exposed that it looks when you're actually on it, but still.
We planned to do it, but then bailed out at the last moment the following morning. This decision was probably catalysed by the fact that it was 6 AM and we were still shattered from the previous day! I'm sure it would have been fine if we had gone, but at the same time, I think nothing was lost. There will be other opportunities to do our first winter climb.
Glyn's friend Tom has a great account of their ascent on his own blog. Meanwhile, we decided to head up to the Glyders. From Pen-y-Pass, we took the Bwlch Dwyglydion gully. Most of the way up we were wading through deep, quite wet snow which made for slow progress – I kept repeatedly putting a foot down to find myself buried thigh-deep. But as we got nearer the top the snow got harder and there was a bit of windslab. The gully also got steeper. We opted to avoid the snow slope and instead ended up scrambing over icy rocks, which was pretty fun.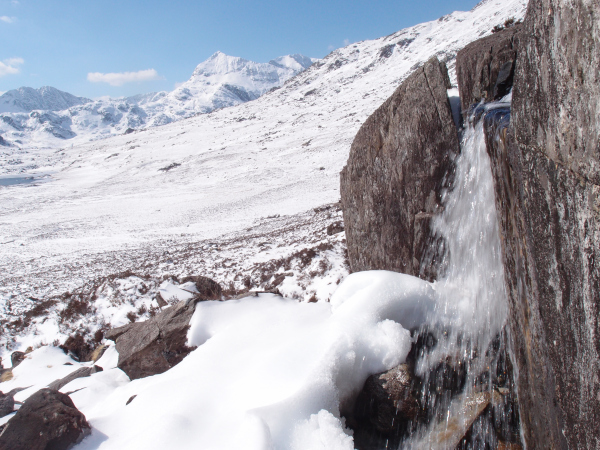 Eventually we made it to Glyder Fach, and then walked back along the ridge to Glyder Fawr. As we walked past "The Nameless Cwm" I saw climbers topping out from a route. It looked pretty fun – can't wait to have a go myself!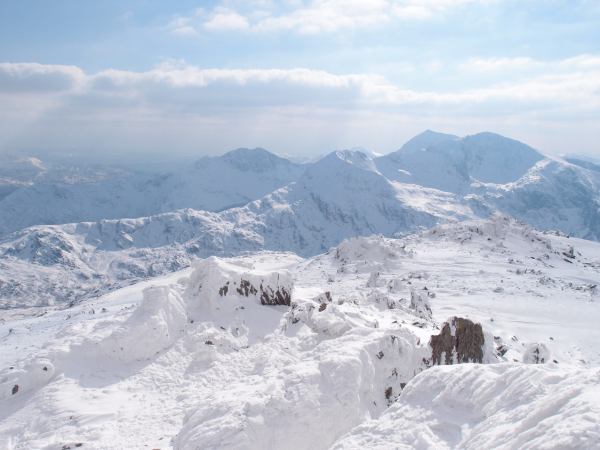 The next day was my birthday! Most of us elected to partake in some sunny bouldering at Porth Ysgo, although Tom and Charlotte still has psyche for more winter routes so struck off on their own.
I don't boulder outdoors that much – I tend to think that once I've put in the time/effort it takes to leave London, I want to get a bit more out of my day (but this is mainly because I treat bouldering as training rather than an end in itself).
But a bit of bouldering from time to time is good fun, as in this case. The sun was shining and it was a lot warmer on the beach than in the mountains. Perfect bouldering weather really – the rock had bags of friction.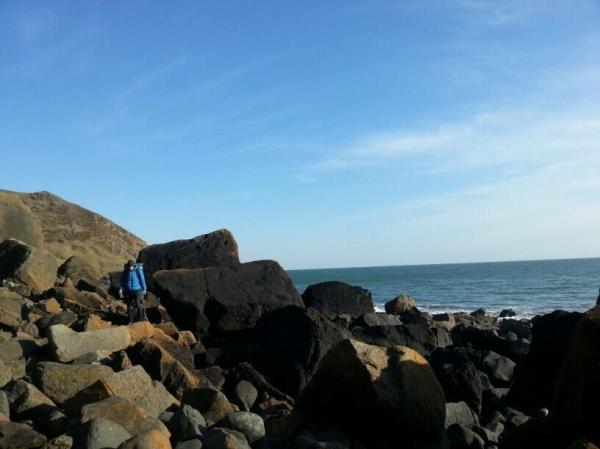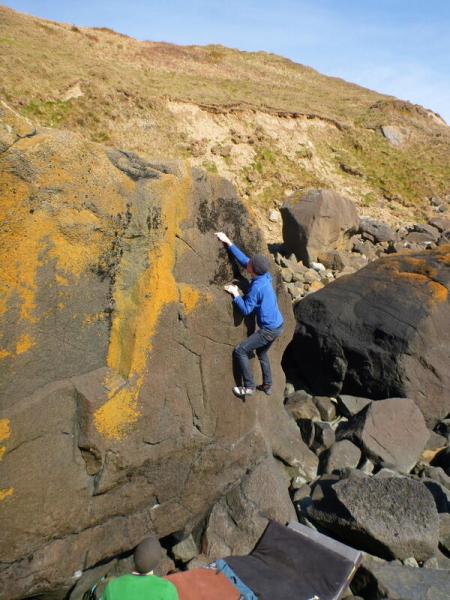 In the evening, Glyn had arranged a birthday get together at "Pizza and Pint" in Llanberis. Thanks Glyn! We even managed to stick some candles on a sticky toffee pudding: well classy!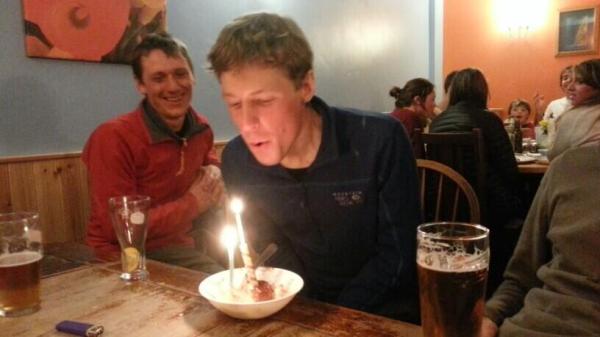 (Thanks to Glyn and Amy for the last three photos.)
We finished off the weekend on Monday with a wander through the slate quarries.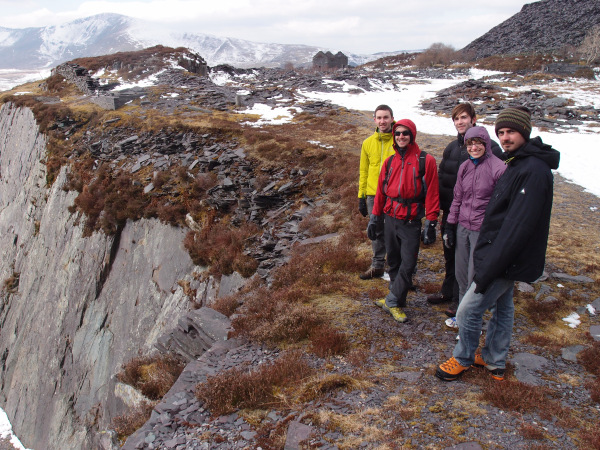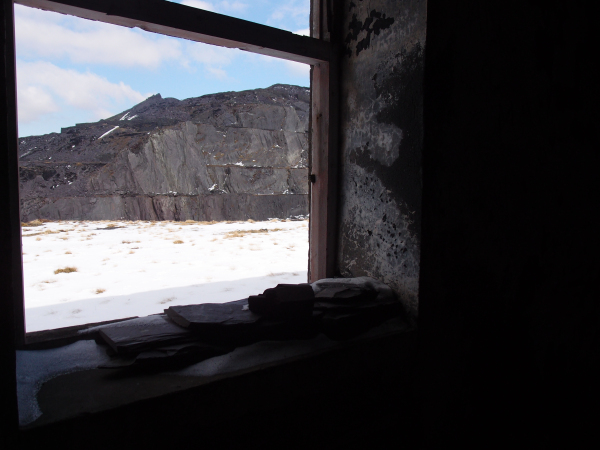 I've never been in the quarries before and was quite interested to take look around. I managed to pick up a few bits of slate which will make great mats for the dining table.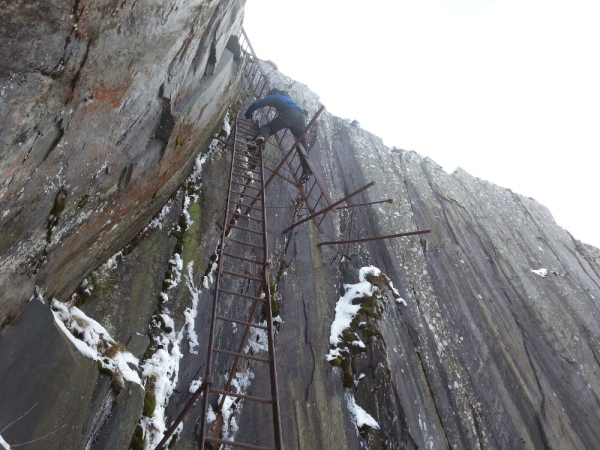 There are lots of sport climbing routes here, which I'd love to come back and have a go at in warmer weather. I've never climbed on slate at all, but from what I hear it's quite unique.
What a great weekend! Huge thanks to Glyn and Amy for putting us up.