On Sunday I returned from a two week trip to South France with Vivien, Glyn and Luke. I've been looking forward to this trip for most of the year. Living in London and working full time I don't get out to crags as much as I'd like, and it's not easy to work on hard projects during a weekend trip with no idea when I might be able to return.
So I was excited to be somewhere for a decent chunk of time and to have the opportunity to really try to push my grade. Before this trip my best redpoint was 7a. Towards the end of last year I came close to ticking both a 7a+ and a 7b, but didn't quite manage it. Since the new year I've tried to step up my training, and I've been regularly climbing 7b's indoors. So my objective was to do one or more 7b routes, and also to try something harder to see how it felt.
We headed to Avignon on the seasonal direct Eurostar service, which was pretty much the most relaxed, easy way you could get to south France. Step aboard in central London and emerge just under 6 hours later at your destination, having spewed significantly less CO2 into the atmosphere then you would have done on a plane. I do hope they expand this service beyond the current Saturday-only offering.
Vivien's parents live near Avignon so we headed there initially. Worryingly it was bucketing down with rain but we consoled ourselves with some tasty food and wine!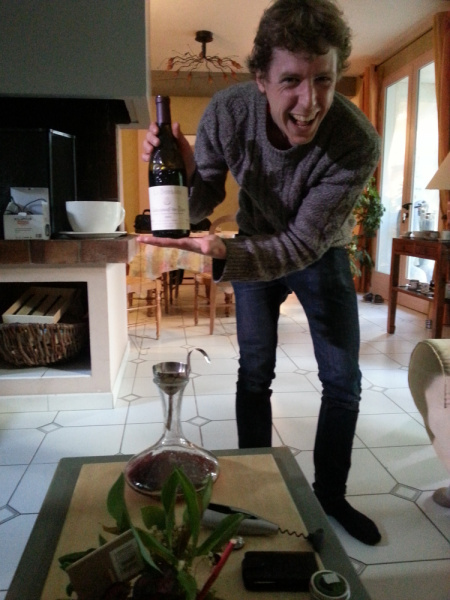 The trip was initially conceived as a 2 week stay at the infamous Céüse. I was excited to visit this legendary crag for my first (but surely not last!) time, but unfortunately the weather when we arrived was a lot colder than it usually is for the time of year. Céüse sits at about 1800m, and there was actually fresh snow up there. A different plan was called for, and I'll have to go back for Céüse in the future!
We cracked open the Languedoc-Roussillon guidebook in search of something a bit lower down, and liked the look of Seynes. The next day the rain had stopped so off we went…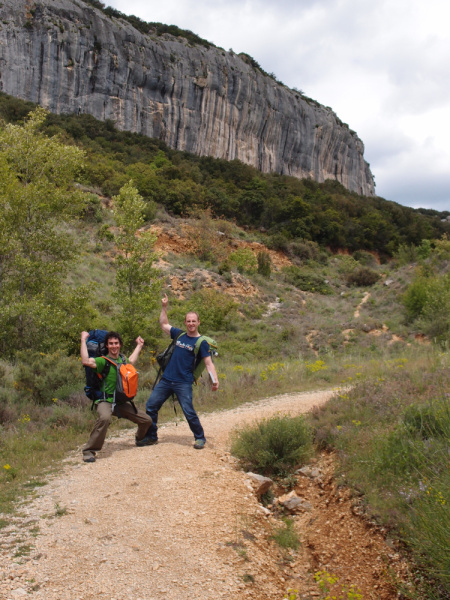 I spent the first day getting into the swing of things. It was actually my first time on real rock for the year, so I wanted to remind myself how to do footwork!
On the second day, I got my first decent tick. Si! J'y étais gets 7b in the guidebook, but Glyn and Luke both thought it was soft, and UKC gives it 7a+. It was a great route and the grade doesn't really matter, however it left ambiguity about whether I'd achieved my 7b goal yet!
The following day I wanted to try something harder, so decided to get on Le chute du rastaquouère 7b+. This ended up being the best route of the trip for me, but things didn't start well. I began getting the clips in and working the moves. Initially the moves were hard but also very enjoyable. I got a fair way through the route but started to get completely shut down. I felt utterly drained and eventually resorted to clip-sticking through several bolts before lowering off before the end. I had kind of given up. I couldn't climb 7b+.
Then Luke actually looked in the guidebook and pointed out that I had taken the wrong line. It turns out there's a bolt line which branches off from Le chute du rastaquouère, unmarked in our guidebook, which I had mistakenly followed. I later found out that this line gets 8a. No wonder I couldn't climb it!
Luckily I'd left my rope hanging. I jugged back up with lots of huffing and puffing, managed to clip-stick to the lower off of the 8a, and then get the clips out of that section. Some time and loads of rope work later, I set off on the remainder of the correct line and finished getting my clips in. To be continued…
The next day was a much needed rest day!
While at Seynes we camped beneath the crag. This was perfect except for two things. One, there is a really annoying noisy road nearby, which kept waking us all up several times a night. Two, towards the end of our stay I learned from a local guy that people camping there was causing access issues which might jeopardise the access for climbers. Not good. So although it's a great location, except for the road, I think I'd find a campsite next time.
On the rest day I tried slack-lining for the first time! I was terrible at first but was able to make a few steps without falling by the end of the trip. Which was progress, at least.
Next day it was back to the project. My first go didn't feel great but I spent lots of time really working the top section properly. I then gave Luke and Glyn all the beta and they both flashed it. On my next attempt I ticked it with much yelling and grunting. I tried really hard and was absolutely delighted to get it. And the moves are awesome. At the top I shouted "I don't care if I don't tick anything else for the rest of the trip!" – a sentiment that lasted at least until the end of the day! The euphoria of sending is short lived. That day I also did my first 7a flash (Au nom du pere) which got me pretty damn pumped.
The following day was our last at Seynes. I was still really mentally psyched to climb stuff, but physically I was exhausted. This resulted in me eagerly trying several things only to lower off the second bolt pumped out of my skull! Oh well.
We headed back to Vivien's house for another rest day.

Vivien needed to head back home at this point so we said goodbye to him and headed for the next crag: Buoux!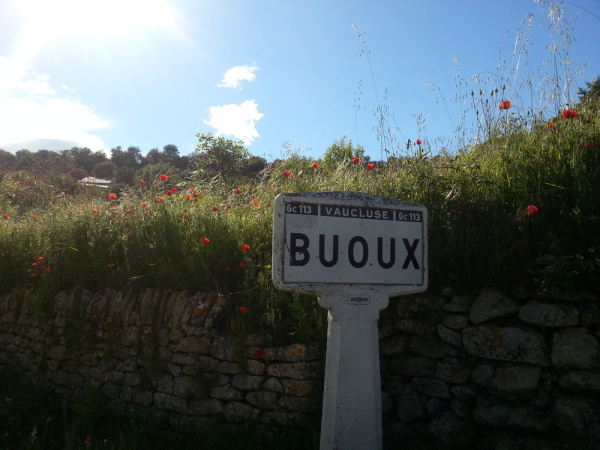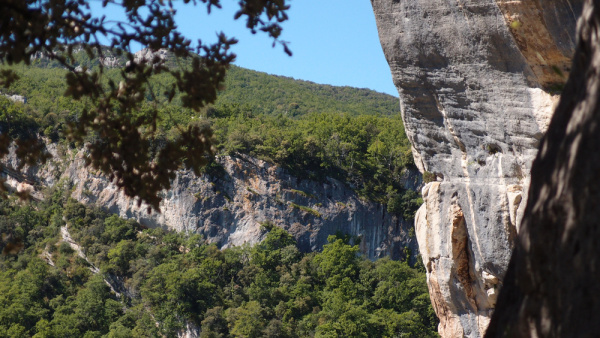 According to the guidebook, "in Buoux even the pockets have pockets in them!" That's certainly true, and not a tufa in sight! It was good to change things up a bit.
I set about trying to climb the classic route of the crag: No Man's Land 7b.
Unusually for a sport route it starts with a traverse along a line of pockets. The climbing on the traverse is not difficult, but the feet are pretty poor and you end up quite pumped by the time you arrive at the more difficult crimpy climbing on the vertical section.
I had several goes on the first day, but didn't manage to get it. The following day I felt pretty worn down in general, and fell off the 6c we were warming up on. So I was quite doubtful that I'd be able to climb No Man's Land. After taking a long rest I got on it and really just thought I'd be going up to take out the quickdraws. But I surprised myself and somehow managed to pull through and make the ascent!
I was quite relieved. The traverse somehow made the route really mentally draining to redpoint – each time I fell I knew I'd have to do the pumpy traverse all over again which stopped being fun after a while.
After another rest day we decided we'd had our fill of pockets, so struck out for our third crag: Venasque.
Venasque was great fun. The main wall of the crag is ridiculously overhanging and full of jugs and flatties of varying degrees of positivity! It's quite hard to capture the steepness in photos but at points on it you are almost traversing a horizontal roof.
I got stuck in and ticked Misanthropies thérapeutiques 7b on my first redpoint attempt. I then moved left to Aller Plus Haut 7b+, which took much longer, but I eventually got it after another rest day. No single move was particularly difficult, but it took a lot of determination to consistently not mess up whilst fighting through the pump. I could have used some more stamina! Finally, I also did L'Intégrale de Peuterey 7b on my first redpoint attempt.
As the trip came to an end, I was very satisfied with my progress and felt ready to return home. My body was quite exhausted and I've been resting up in the week since I got back. It was great to have the opportunity to tick off quite a few routes in a short space of time, and Vivien, Glyn and Luke were great company. I hope to do some more 7b's and 7b+'s over the summer, and who knows, maybe even a 7c…