I'm writing this while once again hurtling along at ~300km/h aboard a high-speed train. This particular one is an AVE from Madrid to Marseille, one of the new cross-border high speed routes linking France and Spain. Having just left Madrid I am taking in the wintry Spanish landscape, and in a few hours I'll get off at Perpignan to connect with an Intercities de Nuite night train which will bring me (while I sleep) to Paris early tomorrow morning. Then it's just a quick hop on the Eurostar and I'll be home in time for elevenses. (No, I don't actually observe elevenses… but it sounds suitably British)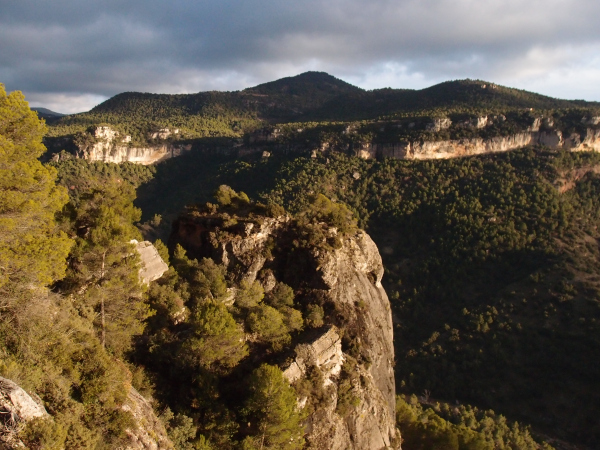 The trip started near Tarragona, where I joined up with Chris Jorde who I met back in September in Rodellar. After finishing his studies in Barcelona, Chris has been climbing solidly since I last met him, and needless to say he was in good shape for it! Fortunately for me, he invited me to come stay at his rented apartment in Cornudella de Montsant and I happily obliged. He also had a fellow Brit staying, Rachel Slater, who was similarly good company and an excellent climber.
To be perfectly honest, I didn't find the start of the trip totally easy. On both trips I did last year (south France and Rodellar), I had clear goals grade-wise. I had to work for them but they were quite achievable. This resulted in me going from a 7a redpointer at the start of the year to a 7c redpointer at the end. Obviously that's great and I wanted to continue the upward march so I had my sights on 7c+ this time.
But there were several problems.
For a start, such rapid progress obviously cannot continue forever. If it did, we could say that I'll probably be climbing 9a in 2015 – something tells me that's unlikely! In reality I think that while I did make a lot of real improvement in my climbing and strength in 2013, I was also in a situation at the start of the year where my redpoint grade did not reflect my actual ability. So it was fairly easy to just try harder climbs and achieve them.
The second "problem" was that we were going to different crags day by day. Actually this was quite nice, as I experienced a lot of different climbing areas in one trip: Siurana, Terradets, Montsant, Margalef, Masriudoms. A grand tour of Catalan climbing. But it obviously made it difficult to really sink my teeth into a hard project which might take days to complete.
Thirdly, I was out of shape. Actually I thought I made quite a concerted effort to prepare in advance of the trip. I did lots of route climbing indoors and felt like I was performing well. But as soon as I arrived on the rock it was clear that my endurance was just not good enough. And the problem was not only endurance – I hadn't climbed on real rock since early December and my technique was a bit rusty. Rock is a much more subtle medium than plastic, so it's unsurprising that this slipped a bit through many weeks of only climbing indoors.
I think my main error was that I didn't realise and accept these facts quickly enough. I tried one 7c+ (Orient) at Terradets over two days at the start of the trip but failed to get it. Actually on my final attempt I climbed through the crux but just got so pumped I could no longer hold on and finish it. But after that I still kept trying things that were at the top of my grade range and failing at them. This made me frustrated.
By the end of the trip the situation improved. I had definitely gained some endurance and technique and the ticks were coming more easily. We went back to some of the places we had previously visited which allowed me to finish off some business. In the end I ticked a soft 7c and three 7b+ routes within the last 3 days I had. It's actually not something I am at all unhappy with when I think back to how hard I had to work for my first 7b+ last May. I reckon that if I'd have gone back to Tarradets after a rest day at the end of my time I could have done Orient as ultimately the main reason I failed was endurance.
So, it was a definite learning experience:
1.5 weeks feels a bit short for a productive climbing trip to me. I felt that it took a week to feel "on form" and then I knew I was about to leave imminently.
If moving around a lot, don't bother with hard redpoints. Concentrate on onsighting, gaining technique and enjoying the climbing. Especially if endurance/technique are not where they could be. If I could do it all again I'd do onsights/flashes at max 7b for the first week of the trip, and only tried harder things after that.
Don't try to progress too fast. Enjoy climbing at your current grade. I still think I can do a 7c+, but I also have much to gain by consolidating my current grade and there is joy in that too.
Endurance. I still haven't figured out a great way to train endurance indoors in preparation for a trip like this. But it's clear that lapping 12m 7a's on plastic isn't cutting it. For the next trip I'm thinking to try long boulder circuits on steep terrain with a bit of weight added. Any tips gratefully received!
After I parted ways with Chris and Rachel I had another little adventure before returning home. I took a train to Madrid where I met up with Iago and Juan who I know from The Castle, and Iago's friend Dani who lives in Madrid. The next morning we all set out at ridiculous o'clock to do an ice climbing course in Sierra de Gredos. I was pleased to have this opportunity as I spent last winter gaining winter mountaineering skills with the objective of then progressing on to winter/ice climbing.
Iago had promised me crisp neve and Spanish sun, but we were actually greeted by rather more Scottish conditions at first! Our trek up to the hut at around 2000m featured very poor visibility and gale force winds. Nonetheless it was character-building!
Fortunately the conditions improved once we reached the hut, which sits in the "Circo de Gredos", a circle of peaks which provide some shelter. So over the following days we learned about how to move on ice, place screws, make anchors from ice axes and more.
Winter mountain activity for me is something completely different to rock climbing. Maybe my attitude will change in the future, but at the moment I'm not aiming to climb hard stuff or difficult mountains. I just really like being in the mountains and snow. It's a unique and refreshing environment to experience from time to time. I look forward to honing these skills in winters to come!