After several failed attempts to climb an 8a sport climb last year I decided to sack off roped climbing for the winter to focus on bouldering. More strength and power would make everything feel easier and I was excited to find out what a full-on foray into the world of bouldering would do for me.

Maybe I got a bit stronger. I certainly enjoyed myself and learned a lot. I'd previously done hardly any outdoor bouldering at all.
I also got injured. This may have been predictable. Having never previously had any finger injuries I've now had 3 (of varying levels of severity) during 2015. This has forced me to learn about rehabilitating and managing finger injuries, but it has mostly not stopped me from actually climbing.
And so in April I returned to sport climbing. Things were going well and after a few weekend trips I felt on good form. I was eager to find out how The Cider Soak, the classic 8a at Anstey's Cove which I'd been projecting last year, would feel.
I sieged the route last year and made detailed notes about my sequence. I re-read them and jumped on. Perhaps it would now feel really easy with all that bouldering power? Er, no.
What actually happened is that I got very frustrated and tunnel vision set in. I was convinced that I'd worked the beta to perfection last year, and now just needed to execute. But getting on a route which I hadn't touched for 6 months meant that there were actually all sorts of subtle movements and body positionings which had slipped from my mind. It felt like backward progress, and I left the crag that weekend ready to give up.
I'd been meaning to re-read Dave MacLeod's book, 9 out of 10 climbers make the same mistakes, for a while, and something made me pick it back up in the week that followed. Its no-nonsense straight talk was exactly the inspiration I needed. As I thought about the route I realised that there were various moves which I was doing inefficiently, or places where I could try an alternative sequence. I studied some videos and returned the next weekend in a better mental state, excited to try various tweaks to my beta rather than doggedly failing the same way.
My first go up the route revealed that these tweaks would work, so I got psyched to try a redpoint. As I tied on, I knew it'd be my best chance of the weekend. I was warmed up but not yet tired. We'd not rushed to the crag so the rock was in the cool evening shade, and most other climbers had left for the day meaning no distractions. Time to focus, but I tried not to put too much pressure on myself either. If it didn't go this weekend, there'd be another weekend. It doesn't matter. Enjoy the process.
It went. I wouldn't say easily – I still had to try – but fairly smoothly. The beta and the preparation had come together, and I was ecstatic. I've never worked on a single route over such a long period of time (on and off for almost a year) and the joy of success was all the more potent for it. I remember feeling privileged to experience that feeling; it's unattainable without putting a huge amount of work into something and seeing the fruits of your labour.
More important than the fleeting euphoria, I learned something: the beta can always be improved. You can always climb a route more efficiently. It's easy to blame strength or endurance or conditions. These factors are important. But even when I thought I had my sequence dialled there were new opportunities to refine my technique and efficiency.
Bursting with positivity, I headed to Céüse for the first time in mid July. I was on form and ready to crush. Ha!
Céüse is a good place to go for a reality check about your climbing ability. The grades are tough, everybody will be climbing harder than you and nothing is a give away. I was prepared for "hard" grades, but this felt like a different scale entirely.
I think I should have done more easier routes to begin with, to familiarise myself with the style. Instead I relatively quickly got involved with a 7c+ project, Makach Walou, which Ciro and then Will had done battle with.
The moves came together easily enough and I felt confident that as I built up my crag fitness the route would yield without too much drama. But as the trip continued I racked up more and more unsuccessful attempts. I started to get frustrated, to the point where I was considering having just one more go and then taking the clips out, yay or nay. I felt I was wasting time on one route when there was so much more to climb.
At the crag we'd made friends with Mayan Smith-Gobat and Ben Rueck, who could be spotted from a mile away covered head to toe in Adidas stripes. On the day that my motivation was waning, Mayan joined our group since Ben was resting. She was also working on Makach Walou, despite having done it years ago, as she is in the process of recovering from shoulder surgery. So we teamed up.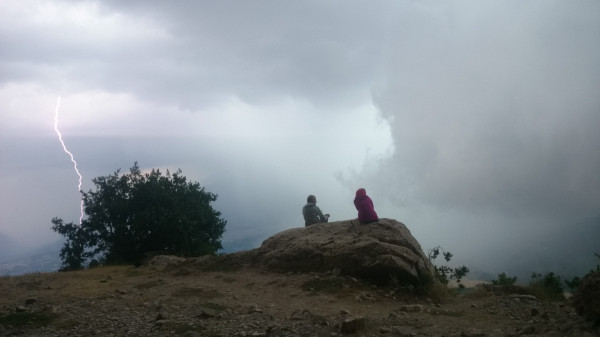 Mayan told me she had a different sequence for the top section, where I'd been falling, so I was interested to try it with her. At this stage I was restricting myself to one attempt per day, so I had my attempt using my known sequence and fell again at the same spot. I then tried Mayan's sequence and it was much easier for me. I abandoned my one-go-per-day rule and ticked the route on the next attempt, despite feeling a bit tired.
Again it was the beta. I'd got my original sequence from Will and had been using it uncritically. But he's quite a bit taller than me and what perhaps worked well for him was very reachy and tenuous for me, meaning I couldn't do it when pumped. I should have realised this of my own accord but once again I got tunnel vision until Mayan gave me a fresh perspective. One day I'll learn!
Céüse was hard work but rewarding. By the end of the trip I felt a lot more comfortable with the style and even managed to get up a few of the warm-ups without falls! I could happily have stayed another month so I know I'll be going back again.
Now, despite having written over 1,100 words about egocentric grade-chasing, I am actually rather keen to get scared and do some trad climbing! Hopefully our British summer weather will oblige…