Last Sunday I returned from my first foray into Alpine climbing and mountaineering. I had always assumed that I'd enter this world at some point, but had no particular intentions about when. Earlier in the year the opportunity came up, so I decided that my time had come. Time to (try to) be a gnarly alpinist!
I have lots of reflections about this trip. It was an intense experience with some ups and downs, but I'm glad I did it and I learned a lot.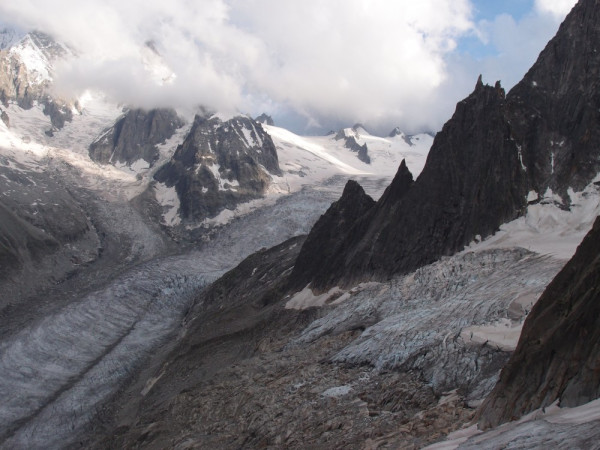 We hired James Thacker for some guiding at the start, in order to learn some of the skills such as moving together and glacier travel / crevasse rescue that are needed for safe travel in the Alps. I was very impressed by James' constant attentiveness and his ability to keep a good eye on all of us at the same time. It felt like we were really learning things rather than just being dragged up to a summit, which was important as our aim was to gain skills which we could then use independently later in the trip. James wrote a nice blog post about our time with him.
In the run up to the trip I read Alpine Mountaineering by Bruce Goodlad. This is a great book which gives lots of useful context and advice for a Brit who is looking to go to the Alps for the first time. It is a little more aimed at walkers/scramblers than climbers, but I still found it very helpful. However I was a little upset when the author at one point stated that "with the advent of cheap short-haul flights, a weekend trip to the Alps is a reasonable proposition", while later in the book he notes that the melting of the glaciers due to climate change is a big and visible problem. I was pretty surprised by the lack of recognition of the connection between these two things.
On that note, travelling to the Alps (in our case Chamonix) by train is very much a reasonable proposition. I did this via a 17:30-ish Eurostar, connecting with a night train from Paris Austerlitz to Saint-Gervais-les-Bains, arriving 8:45 in the morning. This got me much closer to the action than a flight to Geneva which requires an airport transfer. You can take an onward train or bus to get to Chamonix itself for about 9:40.
Unfortunately when I arrived it was raining, and this was very much a constant theme during the trip. From what I hear the weather in the Alps this summer has generally been quite disappointing and this was certainly the case during our visit. When it stopped raining I pitched my tent at Les Arolles (cheap and good facilities – full of climbers), then managed a quick hike from the valley to try to get warmed up.
A couple of days later the four of us had all arrived and we began our guiding with James. Given the generally bad weather we were actually really lucky to have 4 quite reasonable days with him. This was a relief as we obviously didn't want to have invested in the guiding only the end up standing in the valley getting rained on.
The first day wasn't looking too good high up so we headed into the Aiguilles Rouges which is the slightly lower altitude range on the other side of the valley from the "big stuff" of the Mont Blanc massif. We did a rock ridge traverse of the Aiguilles de Crouches, which was a good opportunity to learn about moving together on the rope.
The following day the weather perked up so we drove through the tunnel to Courmayeur in Italy and took a lift up to the Torino Hut at about 3,400m. We spent the day mainly learning about glacier travel and crevasse rescue techniques nearby, which was something that had featured high on our list of things to learn about. It was the first time I'd been at such a high altitude and the effects were quite obvious. As soon as I tried to walk at all quickly I'd get very out of breath and start panting heavily. I could feel the lactic acid building extremely quickly.
The next two days we had agreed that we'd go down to a 2:1 ratio with James in order to try to bring together the skills we'd learned on the previous two days. After having spent the night in the valley we again went up to the Torino hut and Khalid and Harriet went off with James to tackle the Aiguille d'Entreves.
This left me and my climbing partner Sadie to go and do something independently. We decided to have a go at a rock route named Lifting du Roi on the Roi de Siam, which James had recommended to us. It was great fun with fantastic views but not particularly challenging climbing. We didn't actually make it all the way to the top, abseiling down after a very fine corner crack, as we'd run out of time. This was definitely a noticeable theme throughout the trip: to get stuff done you really have to be very fast, which takes some practise!
Eventually we got back near to the Torino Hut by around 7 PM. The other three were all staying the night in the hut, but Sadie and I had decided to have a go at camping on the glacier. It was harder work than just paying for a hut stay, but we learned a lot about the logistics of doing this, and it was quite fun.
The first thing we realised was that we needed some sort of shovel in order to create a flat platform on the snow. Fortunately we managed to borrow one from a friendly Spanish couple who were also camping nearby. When we got into the tent we started to get cold very quickly, and we raced to get our sleeping mats down as fast as possible – turns out tent fabric isn't a great insulator!
After a tasty meal of pasta, pesto and cheese (mmm, healthy!) we had a poor but not terrible night of sleep. We both kept waking up and I was getting a little creeped out by some of the strange noises outside – despite having probed the area I was having visions of a massive crevasse opening during the night and swallowing us whole. Fortunately this did not happen.
We were up early at 3.30 AM the next morning to pack up the tent and meet James. He then took us on the South East ridge of the Tour Ronde. This was good mixed snow/rock ridge which we climbed moving together in crampons. It was my first experience of climbing rock in crampons but I didn't find it too bad. On the whole though I felt pretty wasted from the early start and the previous day, so had to try quite hard to keep up. It was fantastic to be on the mountain as the first rays of light were breaching the horizon though, and we topped out by about 8.30 AM.
After this we thanked James and continued the trip on our own. The following day brought a return of the bad weather which was not altogether a problem as it gave us a much-needed rest day. After that, Sadie and I decided to join some other friends, Adam and Bart, on a trip up to the Envers Hut next to the Mer de Glace.
We took the rack-and-pinion train from Chamonix to Montenvers, and then hiked up to the hut. This involves descending some ladders onto the glacier, walking up the glacier, then ascending some more ladders and walking a steep path to the hut. From afar I found the Mer de Glace quite a depressing example of climate change; it's quite clear the extent to which it has receded, leaving lots of moraine behind. This is reiterated by a sign on the way down which shows the height the glacier used to be in 1820. However up close there is much more ice than can be seen from a distance, since a lot of the ice is covered by rocks and pebbles. Being a "dry" (not snow-covered) glacier the water ice seemed to glow in a fascinating way and the features were clear to see. We crossed lots of streams of water flowing, and occasionally came across moulins, where a stream plummets into a gaping hole down to the depths of the glacier. Needless to say we did not get too close to these!
I found the walk quite tough. I was probably tired, and I also had a sore knee which didn't help, but we were carrying a lot of weight from our food. (I also had a terrible Grivel bag which made my shoulders sore.) Talking to Adam and Bart I picked up quite a few useful tips to keep food weight down:
Take a sheet of tin foil rather than a pan lid
Don't bother with a kettle, a pan will do
Instant coffee rather than an aeropress (I might have to work up to this one… but perhaps there's middle ground in a Turkish style brew where you have no filter and just let the grains settle to the bottom of the cup)
Dried bananas (or dried fruit generally) – note that "banana chips" are actually deep fried in fat, you want the brown ugly looking ones for the real deal which are dehydrated
Powdered soup
Stock cubes = lots of flavour for very little weight
Don't bring a glass jar full of pulped tomatoes (we actually did this) – take tomato soup powder instead
Get rid of as much packaging as possible
Smash (powdered mash potato)
Milk powder rather than fresh milk
General rule: think really hard about anything which has high water content
When we eventually arrived at the hut we went off to do a shorter route very close by, called Le Piège. This was good fun, and Sadie did an impressive lead of the fierce crack climbing at the start (which I fell off on second!) Unfortunately on the last abseil our ropes wouldn't pull. This lead to me prussiking/climbing up 60m to retrieve them just as it started getting dark. Again we were showing our inexperience, as Adam and Bart pointed out that we should have paid more attention to where the rope was running over the edge at the start of the abseil.
The following day it rained all day so we sat in the hut playing cards and scrabble, reading, and generally going slightly insane. Frustrating.
On the third day it looked better so we set out to tackle our real objective, Guy Anne L'insolite. This was a long and excellent route, and definitely a good challenge. Despite not being as fast as we might have liked (again this comes down to experience and practise) I think we would just about have made it to the top if it had not started raining after the 10th pitch. We started abseiling and the heavens opened. It took several hours and we got soaking wet and very miserable. Our wet ropes seemed to get tangled even more readily than normal and my camera passed away in a puddle of water which accumulated in our bag on the descent. Adam very kindly waited for us at the bottom which was appreciated as we were feeling more than a little sorry for ourselves by the time we got to the ground!
The next morning we needed to return to the valley and it was more of the same. Rain. We tried to leave the hut when it had eased a bit, but it soon un-eased and we proceeded to get wet, again. Coming down the glacier we saw loads of rock fall, and ascending the ladders was actually quite serious as by this point there was – no exaggeration – a waterfall coming down the rock face. Coupled with a very strong wind this persuaded me to concentrate quite hard on holding on!
The forecast for the following day looked dry in the morning with the weather crapping out later on, so in a concerted effort to not get rained on we rose early and took the first lift up to the Plan des Aiguilles for an attempt on Papillons Arete. Unfortunately we misjudged this one as on arrival we could see the rock was gopping wet, and following the unusual conditions for the time of year, there was even a sprinkling of snow at this low altitude. Being North-facing (something we hadn't considered), it was not going to dry out first thing in the morning. So Sadie and I decided to hike to Montenvers instead, both of us being intensely keen to not get rained on yet again.
It was an enjoyable little hike and we didn't get wet, but given the €30 lift fee, it felt like a very expensive walk! The cost of everything in Chamonix definitely left a slightly sour taste in our mouths, but you can't really avoid paying the high lift fees if you want to get stuff done. Perhaps it wouldn't have felt so bad if we hadn't felt like we were constantly battling the weather but the cost associated with a trip like this would make me think twice about returning to Chamonix vs finding somewhere cheaper to visit instead. That said, the great think about Chamonix is the amazing granite rock climbing, and the sheer variety of things to do within a relatively small area. So I guess that's why everyone wants to go there and hence it's very expensive! (Also there's a rather big mountain called Mont Blanc in the vicinity…)
At this point Sadie and Adam had had enough, so decided to head off to Orco instead. I had a couple of days left before driving back to the UK with Khalid and Harriet. After a day sitting in the tent in constant rain, it finally looked like our last day would bring some good weather. We decided to head up to the Aiguille du Midi lift station and tackle the mega-classic Cosmiques Arete. I was pleased for the opportunity to get up there as it hadn't previously happened during the trip, and the Aiguille du Midi is such an iconic starting point for many objectives in Chamonix, so I was keen to see it for myself. I was less pleased to hand over another €55 for the lift pass though!
A temperature inversion meant that the first lift took us from an overcast valley into a beautiful clear mountain morning, and we proceeded down the famous snow arete and round to the start of our route.
The Cosmiques Arete is definitely a good outing, but our enjoyment was crushed by other guided parties on the route. At the first abseil a French guide with too many clients started lowering his clients over the top of us. We responded by making a concerted effort to get well ahead of him, and did so quite easily. Unfortunately we ended up queueing to get through the first tricky section of rock climbing – this time it was a guided party in front of us who were holding up proceedings, which had lead to other parties in front having to wait. All this meant that the French guide eventually caught up with us, and then proceeded to make our experience miserable for the rest of the route. This all culminated in a massive mess of several parties climbing on top of each other towards the end of the route. I got very frustrated and all I could think about was getting out of there. I was no longer enjoying myself and it also made the situation ripe for an accident.
This experience would certainly make me think twice about doing such a popular mountaineering route in the future, at least during a busy time of year. The behaviour of other parties ruined our day and next time I'd rather do something a bit harder or more obscure in order to have some breathing room. Still, we were lucky to get a final day of good weather so I shouldn't complain too much.
In the end this trip felt like an education in what the Alps are all about. With the weather, expense and busyness there were some ups and downs, but it's certainly an amazing place to visit, and I hope to go back in years to come. I developed a good sense for how Chamonix works and the geography of its surrounding mountains. I want to go back to Chamonix, but I'd also be keen to consider other Alpine destinations which might be a bit cheaper and quieter in the future.